White Paper: Bringing Sight to Your Production Line With Vision Guided Robotics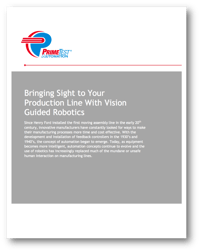 As the rise of smart machines and cyber-physical systems brings us into the fourth Industrial Revolution, tasks performed by robots on the production line are becoming progressively more complex. One feature now enabling robots to perform even more sophisticated tasks is the addition of vision capabilities. Known as vision guided robotics (VGR), these robots are fitted with one or more cameras that provide feedback signals to more accurately move a robot to a variable target position. The addition of visual guidance instills a new intelligence into modern robots that allows the robots to identify, locate, and handle most material parts.
This white paper provides a general overview of key considerations for developing VGR applications and how installing a VGR solution to your production line can bring a multitude of benefits to your organization. It covers topics including:
Production prior to vision guided robotics
A high-level VGR system overview
Getting started with VGR
Lighting considerations and camera requirements
Ensuring accuracy with proper calibration
Choosing the right system integrator
Complete the form on the right to download this paper.